Making the JUMP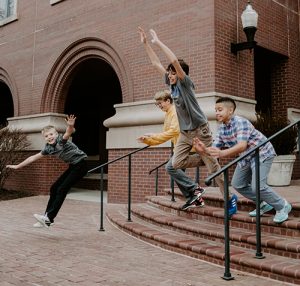 The initial phase of this pilot project starts in the 2021-22 academic year. It will include 24 fifth and sixth grade students from four local schools. The schools involved in the first year pilot program include: Andover Central Middle School, Brooks Middle School, Gordon Parks Academy and Wichita Collegiate School. Students will come from different socioeconomic levels and selected by the school administration as students at the "crossroads."
Cheese Johnson will monitor these students' progress as they advance towards graduation. At the same time he will grow the uJump Program by adding a new team of students each school year.
UJUMP will focus on providing:
One-on-one Interaction with Cheese for mentoring, modeling and motivating.

Teacher Collaboration to integrate classroom curriculum and goals, and to coordinate scheduling for seamless programming.

Community Connections through field trips and guest speakers to introduce students to successful people from different walks of life — business and civic leaders, colleges, entrepreneurs, and technical workers.
Awards Program to help incentivise and recognize students who have "upped their game," excelling academically and socially.
Pride of Discipline in both conduct and dress code to instill respect for self and others.